Catch a Falling Dream, signature concert 
The format of this one-hour program is five songs, four of my originals and one cover, interspersed with my life stories.
Writing this program in 2018 (thus the blonde locks ;) was a therapeutic labor of love.  I was comforted to see how God wove the pieces of my life together into His perfect tapestry.  
I've found that through everything in my life, God has worked out His purpose for my good and His glory!  I would be honored to inspire you and your group to know that same truth!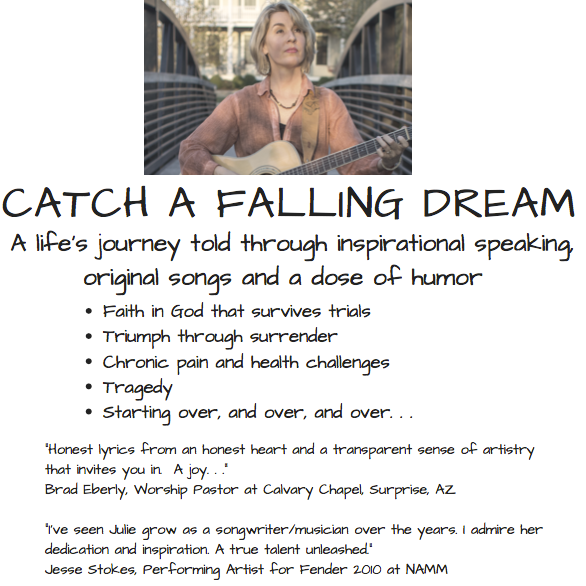 Catch a Falling Dream is a one-woman program. Using original songs and inspirational speaking with a dose of humor, Julie takes you on a journey that includes witnessing a friend's tragic death, a breast cancer diagnosis and life long struggle with endometriosis.
These trials tested Julie's faith in God and made her doubt her talent and purpose. Music helped her work through despair and find her voice again.
Julie prays that her stories and songs will inspire people to cling to and trust God through their own valleys. He has a plan for everyone, no matter how bleak circumstances look. Her experience shows that surrendering ourselves to His plan can help us catch our dreams.
Reach out to schedule a performance for your organization, church, bible study, special event, retreat, or in-home concert.
"I was blessed to hear Julie's program, "Catch a Falling Dream" at a women's Bible study.  Julie's singer-songwriter style and engaging voice drew me into the journey of her life as she weaved it together through song. What an inspirational story of how life can bring great challenge, heartache and trials, but how Julie overcame fear and obstacles with the strength of special people and the healing grace of God. What a beautiful, hope-giving performance; a special light of encouragement in these unprecedented times of uncertainty and fear."  
Donna S., St. Peters, MO
"I loved the way you told the story of your life and path with the Lord, the smooth transitions of stories and songs.  The memories of the past, your family sharing your love of music.  The part where you thought you had life under control and it took twists and turns reminded me of my own life."  
"My favorite part of the program was your journey with God and how God tested you so much and you made it through everything."
"You had such honesty about your journey with God.  I could relate to your story about having cancer."
"I loved how you sang the song Immanuel that you wrote after your nightmare.  Inspiring and beautiful!  I related to your health struggles and also how your husband's faith is encouraging to you, mine is as well."  
"Your testimony of God's grace in your life journey through story and music was very captivating.  Such a sweet story about your husband's support and encouragement.  The lyrics 'Catch a Falling Dream and put it in your backpack'. . . a song of perseverance! and to keep moving forward in hope and faith.  I related to your dependence on God through the deep trials of life." 
 "Your story is inspiring, trusting God in difficult times"
"I just loved your testimony and your love for the Lord, through thick and thin"
"I loved the words and the music for Immanuel-very moving song!  I've tried to do things in my own power, like you spoke of.  Yet, like you, realized I needed to depend on Christ"
"The program was very uplifting, your life was very inspirational"
"Going to Red Lobster after your breast cancer diagnosis, you must have an awesome husband.  Memorable how you create songs from your circumstances, like  'Ho Hum Road'.  Thank you for the sense of humor woven in, an hour was too short!  Agree about giving up our dreams so God can fill us up with His desires.  He can't fill us if we don't make room!"
"My favorite part was the uniqueness of song put together with your story.  You beautifully showed your faith and trust in our Lord through all your songs and experiences.  The faith of your husband and his response to your cancer diagnosis was amazing, only a God thing!"
I could relate to enduring hardships and keeping the faith, also your physical pain.  If God leads us to it, He'll lead us through it. Your story and sharing your heart showed that strength prevails"  
Comments from numerous audience members